Blog

By: admin
Tips To Follow Before Hiring Web Designers for Your Company
27 Sep, 2018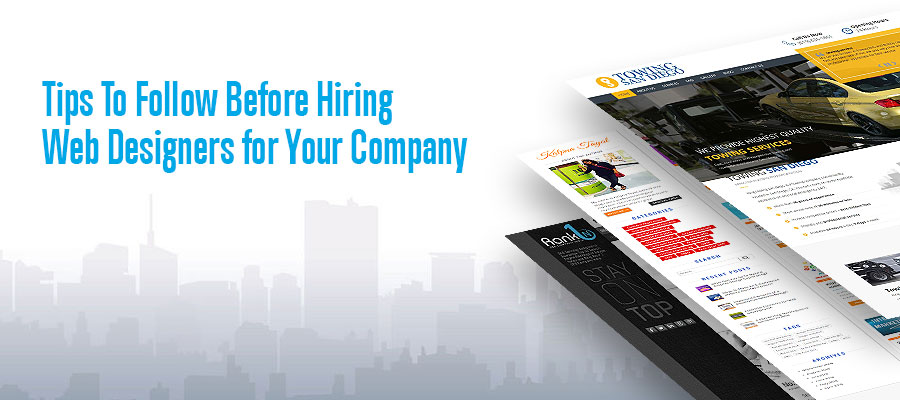 Choosing a web designing company can be a very tricky job.  Finding that perfect balance between cost and productivity is what seems impossible to achieve. A lot depends on whether you choose an individual or a person or prefer to go global or stick to local service providers.  Irrespective of what you choose, your main aim should be to attract the maximum number of customers to your website. It is important that you ask your designers certain questions and conducts research before finalising any decision.
Here are some important tips which can help you to choose the best web design company.
Check Their Work Portfolio
Modern web design concepts are heavily dependent on concepts like raw HTML or Joomla, WordPress, HubSpot, Squarespace and Drupal which are modern content management systems. Check if they have designed any website related to your field of work. Experience in this domain should play a key factor while making a choice. You can also ask for references from previous clients and check the work done by them and get honest reviews regarding the functioning and look of the site.
Experience in Search Engine Optimization and Social Media Marketing
Business in the modern world has little chances of survival without a social media presence.  Look for a company who can not only design your website but also can optimise it to a level where it appears on the front page of different search engines like Google or Bing. Combining SEO with social media marketing would only increase the prominence of your company and attract a lot of potential customers from various social media sites.
Content and Code
Before you sign on the dotted line make sure that the codes on the website is  written by  an employee of the company  and is not outsourced to someone in some other country. Many companies take this approach to save cost. One downside of this approach lies in the fact that in case something goes wrong with the code, you have to wait for a long period of time to get them rectified.  Most companies pay a lot of attention to the design aspect of the web page relegating the role of content to the backburner. However, it is important to note that good content is the key to optimising your page on search engines.
Subscribe to our Newsletter
Categories